I was going to title this post Coach's Last Read or something to do with reading to small children. After all, it was the last time we were going to be reading to the lower division children. I had it all planned. It was going to be a smooth and happy morning. Filled with happy children and a happy Coach. It started out so well. Kind of.
Rat thing and Fozzy Bear on the bookshelf.
I have mentioned that the Lower Division Librarian Kathleen shares her library with
Fozzy bear and the weird rat thing
that Coach likes to eat. Well, they were on a low bench when we came in. Not good for Fozzy Bear! Coach grabbed him by the middle and was transported into waves of ecstasy. Woot! Score one for Coach. Caught a bear!
Coach looking sad that he bit Fozzy Bear, but his tail is wagging.
Bad Coach. Drop it!
While he did drop it, you can see his tail is wagging. Freud would say that subconsciously, Coach is planning on jumping up and biting Fozzy or the rat again and this is just a ploy to keep me happy. But in fact, Coach did not bother them again. Good Coach.
Coach sitting beside the Ten Gallon Bart hat.
Back to the job at hand, reading! We were going to be reading Ten Gallon Bart! A very special story about a dog who tries his paw at riding a crazy bull. Coach is not sure about this whole Bart bull riding thing.
Ms. Edwards reading the book while Coach lies beside her chewing his nylabone.
In fact, for most of the story, he chewed on a bone.
View of Coach's head and the children at the reading session.
Coach is chewing on a nylabone.
Which most of the children found pretty fascinating. Ms. Edwards was able to capture their attention though as Ten Gallon Bart was pretty entertaining and Ms. Edwards does all the voices.
We were able to do two classes before Coach got restless and seemed like he needed a potty break. Since we were over at Lower Division, I didn't have my usual potty place for him, so I took him out the back doors and over to the back of the Lower division which has their garden area, picnic area and the back of the pool. Mind you I am in high heels and a long dress and am walking in the dirt.
The ground is a bit moist and my heels are sinking in a bit, which I find annoying as I chose beige shoes (linen with a gold thread in them) to match my gold sweater and now they are getting covered with this soft half mud. Coach looks up at me and he is chewing something.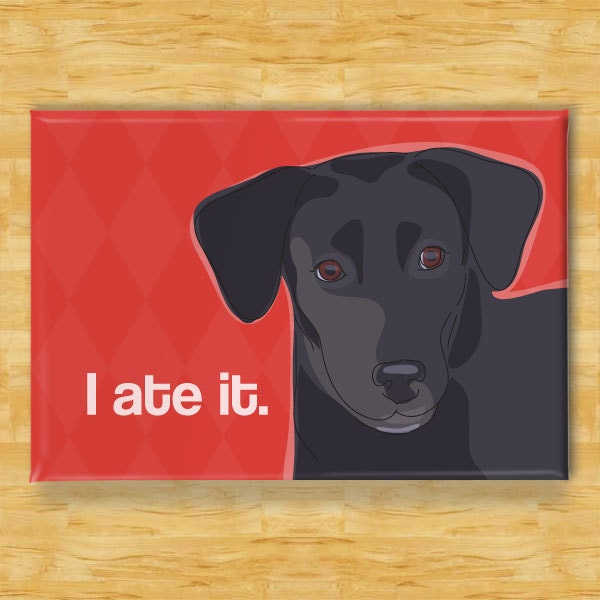 I Ate It Lab Magnet Art from Pop Doggie by Kari Egan
Coach chewing something is not new. In fact, Coach chews everything. He's a labrador vacuum. I am constantly taking sticks, rocks, anything out of his mouth. He is so known for putting anything in his mouth that a good friend bought me the very cute gift for Christmas above (but it was a art piece to frame). It is a black lab with a contrite expression, sort of, with the words I ate it, off to the left. Yeah. Coach ate it.
So, when I move my gaze from my shoes to Coach's moving mouth, I do what I always do, I thrust in my fingers and do the two finger sweep across his mouth to pull out whatever is in there. Imagine my surprise when what falls out is MOST OF A DEAD, DECOMPOSING MOUSE!
And I have mouse gore all over my hand. And not all of the mouse is on the ground. Where is the rest of the mouse? I look at Coach. He looks at me and I can tell he is about to swallow. I shove my fingers back into his mouth and down his throat and scoop out anything and I can feel in there. Coach gags. I gag.
I throw mouse bits on the ground. Is this how the Walking Dead people feel after a fight? I look at my hand. Grey slime. I might throw up.
Did this mouse die a natural death? OMG. What if it didn't? Coach stares back at me. I run in my half mud covered shoes yanking Coach who gives the 3/4 mouse a fond farewell glance and we burst through the back doors of the Lower Division Library shouting the words no one has ever heard in that library:
"Coach just ate half a mouse! I need hydrogen peroxide!" Kathleen and Nancy leap up.
"What?!"
"I just pulled 1/2 a mouse out of his mouth, but I can't find the other bit. I need to make sure he didn't eat it. Do you have hydrogen peroxide? Does the science department?" Nancy runs over to science, which doesn't have it. Maintenance doesn't have it, but the nurse does.
She asks, "You won't let him throw up in here, will you?"
For that, I gave her a little look, but no, we took Coach out to the back of the library where he calmly threw up his breakfast. Several times. There were no mouse bits. At all. There were some leaves.
The third class was in the library when Coach and I went in to get his coat and say good bye. They all looked up and said, "What's wrong?"
"Coach ate something he shouldn't have and he has an upset tummy. He's going to go take a nap."
The dead mouse, looking like flat stanley. I think the stomach and back legs
were the goo I scooped out. Gross!
So, in the end, I guess Coach didn't eat it.